Best of NRF 2018: Top 10 Takeaways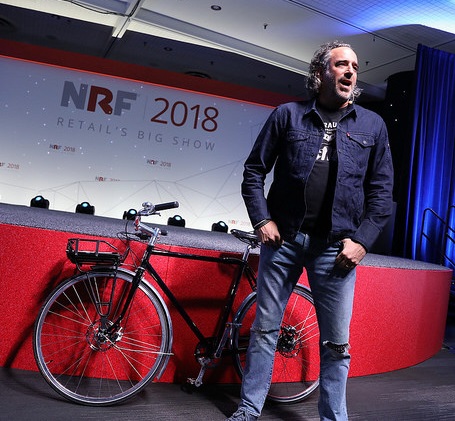 WELCOME TO THE BIG SHOW
The Big Show 2018 opened on Sunday, January 14th with an energetic dance performance from Keone & Mari and opening comments from NRF Executive Chairman Terry J. Lundgren, of Macy's. Lundgren talked about RISE Up – a program which launched at NRF last year offering training and credentials that help entry-level job seekers develop meaningful careers. Lundgren noted more than 10,000 people have participated in the program in the last year.
Following this, James "JC" Curleigh, executive vice president and president of global brands for Levi Strauss & Co. entered his session riding a bicycle, guided by a direction-finding app and wearing a Levi's Commuter Trucker Jacket with Jacquard by Google, which allowed him to stay connected to music and navigation as he peddled in. "The most exciting fan we have is the future fan," said Curleigh, after noting that the 150-year-old company's goal is to be the most loved lifestyle brand, again.
"We're the worldwide leader in 5% of your closet," said Curleigh in his session "Learn From Levi's: How the 150-Year-Old Startup Continues to Transform its Iconic Brand." How does the company move beyond this? One way he said, is to expand its offering into shirts, shorts, shoes and such, while the other is to expand channel and audience. A 25,000 square-foot Levi's store in Time's Square will open this fall and Curleigh said this week people will be sleeping outside of the San Francisco store to get the new Air Jordan-Levi's denim sneakers and matching jacket. He talked about the San Francisco Eureka Innovation Lab, an in-house creative space dedicated to design, research and creative development. He noted how innovation like Levi's Stadium, Home of the San Francisco 49ers, are even giving people a place to wear the jeans they sell.
He noted collaborating was never more important. However, he noted "I've seen plenty of business have an A in culture and an F in business." He advised it's important to be "commercially aligned." He said retailers need to bring the unexpected, which is important, but also exciting for Levi's teams.
Going forward, Curleigh said the company will "continue to turn moments into momentum."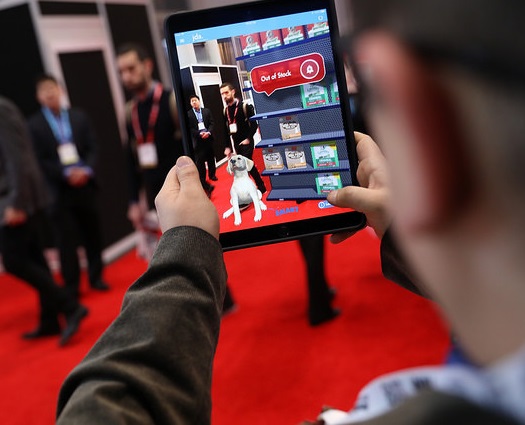 HAD-TO-SEE BOOTHS
IBM highlighted new visual recognition and natural language understanding capabilities, specifically made for the fashion industry. The solution gives consumers the ability to search and discover new products based on image similarity. Trained natural language and visual recognition services can understand or extract smaller attributes including color, pattern, print, fabric, brand, size, and occasion and category specific attributes. Consumers can shop asking natural language questions or via a trending look book from Pinterest.
NEC displayed the power of face recognition in the mock store environment. Booth visitors were encouraged to have their photo taken and create a brief profile. As they travelled through the "store" cameras followed their movements and various applications personalized and tracked the shopping journey.
Samsung displayed its Connected Spaces,  an all-in-one pop-up store solution that gives brick-and-mortar retailers a platform to create a pop-up store infused with data collection and analysis capabilities. The solution uses Samsung Nexshop software — the company's cloud-based digital store platform with real-time behavioral sensing — along with IP and mobile devices. In addition to analysis capabilities, the solution allows store associates to interact with shoppers using organized cloud-based content via tablets or interactive displays, for a more engaging customer experience.
Panasonic displayed a host of smart-edge devices designed to create and leverage next-gen retail data. The solutions provider highlighted its in-store analytic capabilities, rugged warehouse and store devices for inventory and order management, transparent digital screen for store windows, projection touch-screen technology, and much more.
In the SAS booth, expo attendees were able to experience a hands-on augmented reality tour that illustrates how analytics drives digital relevance based on demographics, household preferences, past in-store behavior and inventory optimization. The interactive tour highlighted how analytics supports contemporary retailers whether they're adopting IoT sensors, beacons or RFID tags or stepping up to an even higher level with chatbots, artificial intelligence and machine learning to understand customers' needs and preferences.
Tableau showcased how top retailers are using its software to evaluate sales, customer analytics, customer ID and segmentation, CPG planning and forecasting, supply chain solutions and more. Attendees had the opportunity to participate in a virtual reality experience demonstrating Tableau dashboards within a retail store environment.
As always Microsoft had a massive presence on the show floor, highlighting some of the cutting-edge deployments and innovations from its technology partners. Among the game-changing tech in the booth was Lowe's autonomous inventory bot that uses computer vision and machine learning to roam the aisles of Lowe's San Francisco test stores and provide management with an up-to-date view of inventory levels on the shelf. Kroger was also on hand demoing its smart shelf solution. The unique digital shelf signage allows the retailer to seamlessly change prices and offer a personalized experience to shoppers. The tech is currently live in 17 stores, and Kroger plans to aggressively roll it out to 140 stores by year's end.
Impinj displayed how RAIN RFID technology can be used by retailers to go beyond simple inventory tracking. In a series of live demos Impinj showed how RFID can ensure customer orders are accurate; track customer orders throughout the supply chain; provide interactive fitting room experiences; process quick, seamless checkout; and much more.
Intel's booth showcased how the company is helping brick and mortar retailers revolutionize the way they are doing business. Memomi showcased its MemoryMirror technology, which records makeup sessions or allows users to virtually see makeup projected on their face and change colors and looks. Dutch retailer G-Star piloted the Intel Responsive Retail Sensor in over 20 stores, and has plans to scale globally to an additional 100 stores. Bossa Nova Robotics showcased their shelf-scanning robot already being trial run in Walmart stores.
Gourmet candy retailer Lolli & Pops showcased how it uses computer vision and AI to provide a personalized customer experience. Through computer vision, Lolli & Pops "Magic Makers" recognize loyalty members in real-time as they enter the store. Then, using AI-enhanced analytics, they access members' preferences and make personalized product recommendations.
Cisco transformed its booth into an eye-catching display of digital disruption by creating its own toy store. ToyBox, a fully functional retail store enabled through a variety of technologies helped showcase the outcomes digital technology delivers. Beginning the journey on a mobile phone, "shoppers" got to use an interactive map to find their pre-chosen wish list items in the store. Thanks to RFID & QR codes on items, they were able to scan and add the items to purchase. Digital screens and advertisements changed based on shopper's proximity thanks to facial recognition and the checkout line was as smooth as walking through with scanned items already paid for through the app.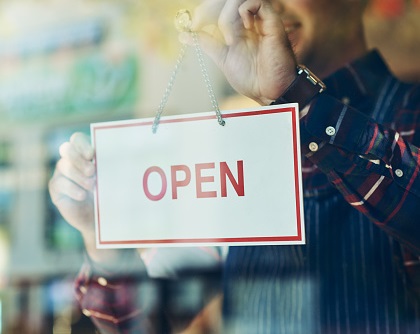 RETAILER DEPLOYMENTS
Kronos announced that Brookstone, a nationwide specialty chain retailer, is deploying its latest workforce management solution, Workforce Dimensions. The solution is powered by the intelligent Kronos D5 platform and offers a breakthrough employee experience and unprecedented levels of operational insights to help Brookstone better manage its workforce.
Ingenico Group and Aurus announced that David's Bridal has deployed its POS terminals across more than 300 retail locations in the U.S. to provide a secure and streamlined checkout experience. The retailer upgraded its payment solutions to Ingenico Group's iSC Touch 250 smart terminals to deliver global tokenization support and EMV acceptance, enabling a simple and secure payment experience.
Finish Line was in the Elo booth demonstrating how it uses MemoMi's smart mirror technology. The solution allows customers to take a photo of themselves wearing new footwear and superimpose the image in a variety of backgrounds. The screen can text the image to the customer, allowing for easy social sharing of the image.
Opterus, a provider of store communications and task management solutions, announced that GameStop has implemented its Store Ops-Center solution across more than 4,000 U.S. store locations. GameStop is currently investigating expanding the use of the solution to its stores in Canada, Australia and potentially Europe.
SATO Global Solutions and fast-growing retail brand UNTUCKit are working on a pilot that will use data collected by RFID chips on men's shirts, traffic counters and other in-store data points to identify the optimal merchandising mix. The pilot gives managers visibility into merchandise movement, to better determine customer demand. Tiny RFID tags placed on the "try-on" shirts collect real-time data on merchandise movement from showroom to fitting room (and back).
Oracle announced that River Island deployed Oracle Retail Merchandise Financial Planning to support their omnichannel growth and digital transformation. With a global footprint and multiple web, franchise and wholesale operations, River Island required new tools to make accurate and impactful inventory decisions for continued growth.
Salesforce announced that YETI launched a new digital shopping experience built on Salesforce Commerce Cloud. Through the power of Commerce Cloud and Salesforce Einstein artificial intelligence, YETI.com shoppers can now receive unique content, campaigns, offers and recommendations based on information such as past purchases, geographic regions and even their favorite outdoor adventures.
Edgewater Wireless and Kroger announced the launch of Kroger's next generation WiFi platform, powered exclusively by Edgewater's WiFi3 technology supporting wideband and multi-channel access.
Infinite Peripherals announced a partnership with Tickets.com to seamlessly integrate NFC contactless ticketing solutions for iPhone and Apple Watch users at live events, upgrading previous ticketing technology.
Fairway Market selected FutureProof Retail, provider of line free checkout, to power its next-generation mobile app. The new app builds on FutureProof's line free checkout technology, which allows customers to scan and pay for items on their phone, bypassing the checkout line.
Toshiba Global Commerce Solutions expanded its partnership with BJ's Wholesale Club, which includes more personalized offers to BJ's members through the TCx Vector solution, continued expansion of self-checkout systems and other mobile shopping solutions, and rapid development and deployment of new capabilities using Toshiba's TCx Elevate digital commerce platform.
Canadian retailer Loblaw Companies Limited and consulting and analytics firm Precima have signed a multi-year, enterprise wide agreement. Launching in 2018, the single access retail analytics portal will capture customer, marketing and merchandising insights for the company's grocery and pharmacy divisions.
TXT Retail, an Aptos Company, announced REI has successfully implemented the TXT Retail solution for allocation planning across its 150 stores nationwide, which will help REI accelerate its creation of customer-focused assortments on a localized basis.
Tapestry is deploying the Aptos Store point of sale solution to provide customers with seamless, advanced and personalized experiences across its Coach and Stuart Weitzman Stores in 13 Countries.
Walmart announced results of an extensive lighting program with Current, powered by GE. As part of an ongoing commitment to energy efficiency, Walmart has now installed more than 1.5 million LED fixtures across more than 6,000 stores, parking lots, distribution centers and corporate offices in 10 countries.
ProFlowers has launched "the Virtual ProFRESHional" bot powered by mode.ai. The chatbot on Facebook Messenger, which uses artificial intelligence and natural language processing technologies to support multiple features, is the first one mode.ai has designed with one-click buying feature.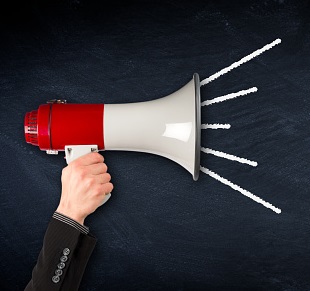 TECH ANNOUNCEMENTS
NCR celebrated the 20th anniversary of its self-checkout solution and had its latest innovations in the space on display. Its intelligent image scanner can recognize items placed on the scanner, and offer a shortlist of suggestions instead of requiring customers to move through menus on the interface.
Displaydata, a leader in the design and supply of fully graphic electronic shelf labels (ESLs), announced the release of Dynamic Central 1.8.0, featuring new, industry-leading ESL enhancements for enterprise retailers. Dynamic Central can now support 200,000 ESLs per location, allowing the platform to accommodate the large number of ESLs necessary for supermarkets and large format stores.
PCMS announced the debut of Personalized Offers. The cloud-based solution helps companies create engaging, customized marketing to inspire consumers to shop. Retailers can personalize the shopping journey by uniquely identifying each customer to apply rich consumer insights, make marketing campaigns more effective, and influence consumers' purchase decisions.
Among the new solutions Zebra had on display were its MC3300 handheld computer series and the VC80x vehicle-mount mobile computer providing organizations with a complete portfolio of Android-based mobile computers to meet their business needs from the front of the retail store to the distribution center or warehouse.
PERCH introduced PERCH Shelf Touch, which puts the power of connecting in-store products with an infinite library of product-focused digital media at the fingertips of individual shoppers. The solution helps brands unify the value of physical and digital shopping experiences by engaging, informing and learning from the customers who can now connect with products with the slight tap of the shelf.
Inkling, a leader in frontline workforce enablement, introduced Inkling Collaboration, a new product that combines communications, task management, and data analytics into a unified platform for retail operations. With Inkling Collaboration, retailers can put frontline employees in touch with the people and resources they need to get work done while giving operations leaders visibility into what is happening in the field.
Shopgate, an SaaS mobile app platform, announced the launch of its Shopgate Partner Program designed for systems integrators, technology partners and e-commerce platforms.
Checkpoint Systems, a global supplier of Electronic Article Surveillance (EAS) and RFID solutions for the retail industry, announced new NP10 and NP20 sensors. Developed for grocery and big box retailers, they feature a less intrusive, lightweight, more contemporary look with a brushed metal frame. The antennas have been designed with RFID in mind, with retailers able to seamlessly upgrade without any impact on the antenna frame.
Ecrebo, a POS marketing specialist, launched its OnPoint software platform and associated product suite. OnPoint is the next generation of Ecrebro's industry-leading POS marketing and digital receipt capabilities that have been extended and developed to directly address the emerging requirement for data-driven, personal engagement with shoppers.
Tyco Retail Solutions showcased inventory accuracy and visibility capabilities with the Google Cloud Platform to enable a clear sightline into real-time, accurate inventory availability and maintain a consistent in-stock position to meet shoppers' needs.
Hitachi Solutions showcased the following intelligent retail solutions: Luxury Goods and Specialty Retail, Loyalty Management, Ecommerce, Power BI and Analytics, and Azure. Based on the Microsoft Cloud, these solutions are transforming how retailers connect with shoppers across channels, and how retailers are evolving with new industry trends and customer demands.
Crane Payment Innovations introduced Paypod, an all-new pay station that automates payment at the POS. Paypod consolidates three highly-engineered technologies into a single unit that easily connects to any Windows point-of-sale system to deliver simple, seamless payment automation.
HappyOrNot announced the launch of SmileyTouch, a touchscreen terminal that empowers customers to provide more feedback than ever before, and in turn supercharge company decision-making.
Diebold Nixdorf's new cloud-based Vynamic Engage is a software-as-a-service solution that revolutionizes how retailers can drive consumer engagement, enabling a 360-degree view of customer behavior and enhancing the shopping experience at every touchpoint of the journey. By collecting, combining and analyzing consumer data, the solution generates holistic consumer profiles driving loyalty and increasing overall spending.
Epson America, a supplier of value-added POS solutions, introduced its OmniLink TM-H6000V multifunction thermal receipt printer. It also announced that two liner-free label media from Iconex have been added to its list of tested media for its TM-L90 Plus LFC thermal label printers.
HP unveiled the "atomic" white version of its all-in-one POS system, the HP ElitePOS. Offered now in white or black, the HP ElitePOS can be customized with components such as an in-column printer, retail connectivity base, matching accessories such as barcode scanners, magnetic stripe readers, and customer facing displays.
Fractal displayed its award winning AI analysts platform, Cuddle, and recruited partner clients for testing of Cuddle V2 which will hit the market this year.
Posiflex unveiled a new line of dynamic touch screen terminals at the show. The RT series, which features an elegant housing and thin profile, comes in two variations: the RT2000 and RT5000. The RT series offers a choice of 15"/4:3 screen or 15.6"/16:9 widescreen.
RELEX Solutions unveiled a new floor planning solution, which will be available on a cloud-based SaaS model. The AutoCAD-compatible system for the creation, editing and management of store-specific floor plans is integrated with RELEX's planogramming software to allow planning and store teams to collaborate fully on projects, in real time.
Toshiba Global Commerce Solutions previewed its next-generation Toshiba Self Checkout solution, which combines a sleek modern design with complete modularity, its new all-in-one TCx 800 Point-of-Sale platform, and the new TCx Dual Station Printer. It also showcased the launch of the TCx Sky retail-optimized operating system.
Reflexis Systems, Inc. showcased its new Intelligent Forms solution, which simplifies the process for handling the many forms stores have to send to various corporate departments. Intelligent Forms modernizes the design, distribution, escalation, and completion of digital forms.
Cradlepoint launched the AER 2000 series and is now bundling products together so that customers can have router, software subscription, and support in one package.
Manhattan Associates, Inc. announced Manhattan Customer Engagement, a solution that gives retailers new insight into individual shopping experiences to provide personalized service. Part of the Manhattan Active Omni platform, the product connects customer conversations on social media platforms, like Facebook and Twitter, with real-time order information to give associates a complete picture of a customer's buying journey.
Aptos announced the launch of its new cloud-native, microservices-based singular commerce platform.The platform is designed to address retail's biggest challenge: keeping pace with the shifting complexity of commerce while offering differentiated and seamless experiences that drive loyalty.
Boomerang Commerce previewed its Price Wars Index (PWI) and Price Wars Dashboard to help retailers and brand manufacturers understand the fast-changing, competitive pricing environment and which retailers are price setters and which are price followers.
Mad Mobile launched Hello Customer, a feature within its Concierge clienteling solution that alerts store associates when a customer has entered the store location. The new feature leverages the BLE signal that emits from Apple iOS devices in radar mode to identify new and loyal customers that enter the store, with no beacons or additional hardware needed. Customers are welcomed with a text message and store associates on the floor are immediately alerted with the customer's full profile.
CompuCom Systems' Self Healing Store is an automated service that keeps store technology up and running by monitoring device performance in real time, automatically detecting and resolving issues, outages and failures. Predictive and proactive, it fixes issues before they affect employees or disrupt business, taking issue resolution down to minutes.
Pitney Bowes released the latest version of its Borderfree.com site, a global online shopping experience to help international consumers in over 200 countries and territories worldwide discover and reach iconic retailers in the US, UK and Australia.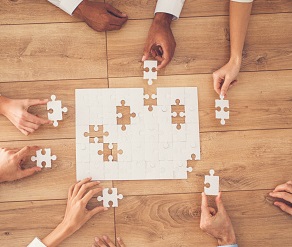 VENDOR PARTNERSHIPS
OneView Commerce announced that it is integrating its inventory management solution with IBM Order Management to optimize order orchestration efficiency through a global view of inventory right from the store's point of sale.
Hughes Network Systems announced that its Hughes MediaSignage client software is now available as an application for the LG webOS Commercial SmartTV. Compatible with all of the Hughes digital signage solutions, including BreakroomTV, Dining Room TV, Digital Menu Boards, and Digital Associate, the partnership simplifies deployments and reduces operational complexity, taking full advantage of the webOS platform.
BigCommerce and Handshake, announced a strategic partnership to bring a suite of enhanced B2B capabilities to BigCommerce customers worldwide. Through the partnership, businesses selling on BigCommerce will be able to leverage existing product catalogs and customer data within Handshake, enabling a wide range of B2B selling scenarios while maintaining a single source of truth for sales, inventory, pricing and orders.
Theatro and Curbside announced a partnership aimed at improving the click-and-collect customer experience. It will allow retailers to increase the efficiency of in-store pickup of online orders by empowering retail associates with hands-free, real-time communication and insights about consumer orders.
Symphony Retail Ai  announced its formation, incorporating Symphony GOLD and Symphony EYC into the new company as divisions. Symphony Retail Ai is a provider of artificial intelligence-enabled decision platforms, solutions and insights for FMCG retailers and CPG manufacturers.
Brother International Corporation showcased its recent partnership with Petrosoft, a provider of cloud-based solutions for retail. Petrosoft demonstrated cloud-based labeling solutions for petroleum and convenience store mobile applications, having identified Brother's RuggedJet 3" mobile printers for use with its in-store, on-demand label printing applications.
BTM Global announced it has joined the NetSuite Alliance Partner Program. The partnership with Oracle NetSuite enables BTM Global to expand its core services ― development, implementation, support and strategic technology planning ― to retailers leveraging the NetSuite SuiteCommerce Advanced e-commerce platform.
Kibo announced the launch of Brother Canada's new e-commerce website, brother.ca. Kibo was selected for its scalable e-commerce solution, while the new mobile-friendly and responsive website was implemented by Echidna, an e-commerce system integrator.
JDA Software, Inc. has partnered with MuleSoft, provider of an integration platform for building application networks. The MuleSoft Anypoint Platform delivers universal connectivity that allows organizations to rapidly integrate, compose and deliver new applications. JDA's existing integration solution, JDA Connect, will now leverage MuleSoft Anypoint.
ACI Worldwide announced an extended partnership with Klarna, leveraging ACI's UP eCommerce Payments solution. This will enable online businesses in 10 major markets, including the U.S. and U.K., to easily integrate Klarna's payment products, and offer shoppers a fast and frictionless checkout process that can improve conversion rates immediately.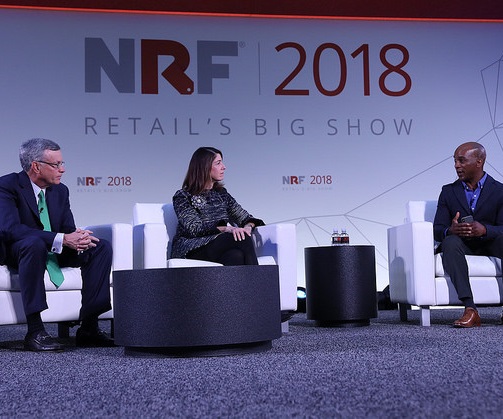 ARTIFICIAL INTELLIGENCE
Artificial intelligence was well represented on the show floor ― from chatbots, pricing, recommendation engines, smart analytics, and so much more ― the technology was everywhere you turned. To address the powerful current and future capabilities of the still maturing technology Deborah Weinswig, Fung Global Retail and Technology; Silvia Campello, Cosabella; Chris McCann, 1-800-Flowers; and Kris Miller, eBay discussed how their organizations are levering the tech in their "How AI is Currently Powering Retail's Growth" session. Weinswig moderated the session and each of the three retailers spent a few minutes outlining how they are using AI in the field before turning the microphone over to the audience for Q&A.
Campello the president and COO of Cosabella reported that when the retailer decided to shift its focus from wholesale to direct to consumer it turned to AI to gain insight into consumer behavior. The intimate apparel brand uses AI in four key areas: advertising, e-mail automation, A/B testing, and product personalization.
McCann, CEO of 1-800-Flowers, recounted the brand's innovative roots ― the retailer helped usher in both toll-free telephone retailing and e-commerce. He outlined the four ways his company has evolved since its founding: in-store innovation, telephone ordering, e-commerce, and mobile/social media. He also discussed a fifth revolution that the retailer is currently in the midst of ― conversational commerce, powered by AI. 1-800-Flowers was the first retailer to launch a Facebook Messenger purchasing bot, has a AI powered concierge named GWYN (gifts when you need); has partnered with Amazon and Google to allow customers to purchase with just their voice on the tech provider's popular virtual assistant platforms.
Miller, chief strategy officer, eBay discussed the retailer's ongoing transformation and need to crystalize the brand promise both internally and in the hearts and minds of its customers. The online pure play is using AI in a number of areas including advertising, chatbots, website personalization, and visual search.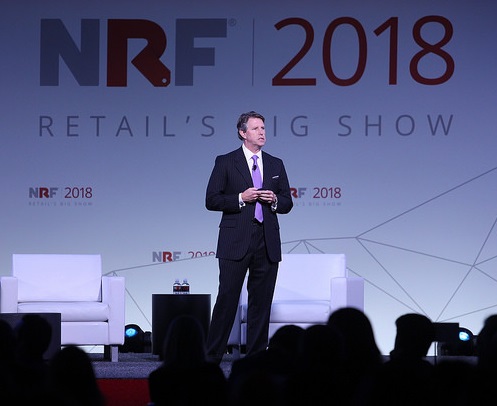 SESSION QUICK HITTERS
Competing on price is a slippery slope ― shoppers are making purchasing decisions based on pricing, but retailers need to avoid the treacherous race to the bottom. In their "Shoppers Speak: Shoppers Bust Long-Held Myths on Pricing and Promotions" session George Lawrie, Forrester Research; Luke Rauch, Walgreens; and Cheryl Sullivan, Revionics discussed new Forrester research on shoppers' attitudes in regards to pricing. The most interesting findings of the report include: 9% of shoppers buy at full price, 5% make a purchase on the first price they see, 17% only buy the lowest pricing, 17% demand price matching, and 78% trust science to give them a fair price. A full copy of the report is available by request at info@revionics.com.
Payment options have gone well beyond cash and credit. In addition to traditional payment methods, customers now have a host of new ways to pay including mobile wallets, cryptocurrency, wearable devices, etc. To explore the current state of payment Joe Fortt, CNBC, hosted a fireside chat with Karen Katz, CEO, Neiman Marcus and Alfred Kelly, CEO, Visa on "The Future of Commerce and Payments." Kelly reported that the US is way behind the rest of the world in providing cashless payments, especially in the contactless space. Many retailers have the capability to tenure contactless credit card payment but most card issues have yet to deploy the technology. He believes that over the next 2-4 years, the majority of cards will have the capability and issuers will update them on a regularly scheduled timetable instead of doing a large-scale push outside of the established scheduled card refresh.
In the "Building the More Innovative Innovation Lab" session, Lori Flees, SVP, next gen retail & principal Store No 8, Walmart, and Scott Friend, managing director, Bain Capital Ventures, discussed how Flees leads this new business incubator. She said that no one area of Walmart could be responsible for all the innovation, so what Store No 8 focuses on is trying to find the three-to-five years out innovation. She noted it's important to work with new companies so the innovation you develop together fits your particular organization and that there are a number of players looking to partner of all sizes. Flees also noted that voice commerce will progress quickly and Walmart is really leaning into grocery. She thinks when it comes to picking fresh food, trust is essential. "Picking bananas [fresh produce] is more of an art than science," she advised.
In the session "Staying Unbound: What Retailers Can Learn from Hearst's Reinvention and Growth," Michael Clinton, president, marketing, publishing director, Hearst Magazines, and Joanna Coles, chief content officer, Hearst Magazines, talked about how they've lead change and reinvented their publishing business through innovative partnerships and digital engagement. Coles noted how she teamed up with Snapchat early on and now Hearst is now the leading publisher on Snapchat. Clinton talked about how 10 years ago Cosmopolitan was just a print brand and they had to build a mobile first strategy. Coles also showcased airbnbmag, which she said has been an "extraordinary success." The digital brand wanted a physical manifestation of Airbnb and had a ton of data already, which Hearst leveraged to know what to feature in the print magazine. Coles also advised retailers "voice technology is going to be everywhere in five years."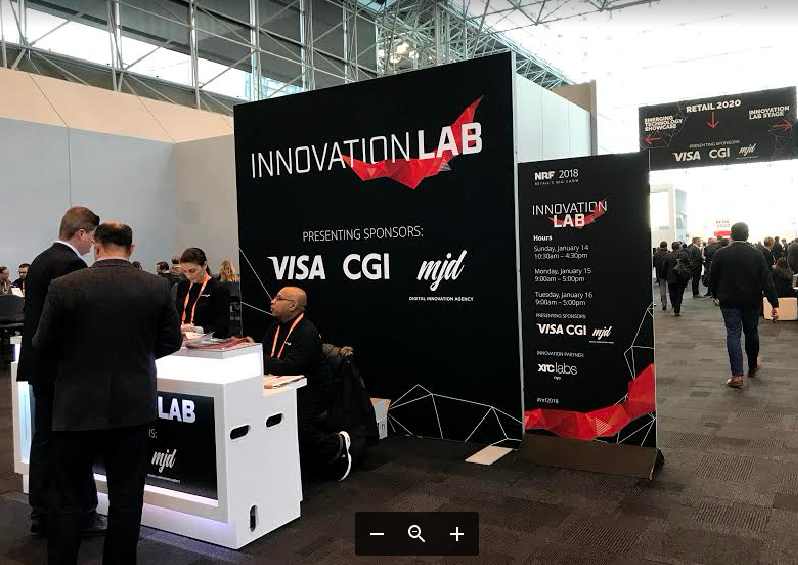 INNOVATION LAB
The Innovation Lab showcased the technologies that are transforming retail. Companies demoed the latest and greatest in the solution areas of engagement, consideration, service, post-purchase, awareness, and emerging tech.
June20's digital display demo within the Retail2020 section of the Innovation Lab showcased its reinvention of the in-store shopping experience. June20's Converge retail technology platform adds a content-rich online experience through a sliding tablet that delivers videos, reviews and expanded content for the product the shopper is viewing on the shelf. After viewing digital content and the real-life product in-store, shoppers can then transfer information to their mobile devices to make an immediate purchase or take the information home for further consideration. Converge also delivers insights on consumer behavior at the point of purchase, which retailers and manufacturer clients can use to more effectively direct product messaging. The booth's Converge: Configure feature allowed attendees to test out configuring a Tesla car, while the Converge: Compare demo let attendees compare two smart home door bells and two smart home door locks.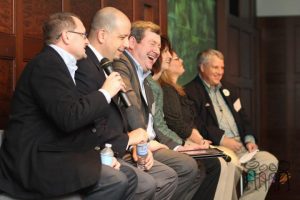 9TH ANNUAL SUPERSATURDAY FOR RETAIL ROI
The RetailROI SuperSaturday conference and charity event returned to the PwC auditorium on 42nd St. on January 13. This year's event, the ninth, was attended by 300 retailers and industry leaders, who gathered to learn about major trends to watch as they headed to the NRF Big Show the following day. Highlights of the fast-paced program included an opening set of three TED-style talks, a report by IHL Group's Greg Buzek's about work done by RetailROI throughout the year, market analysis by PwC's Matt Egol, an inspirational personal journey by Demetrious Napolitano, and a retail transformation report by Jeff Roster. The event raised $350,000 for distribution to deserving charities that help children in need throughout the world.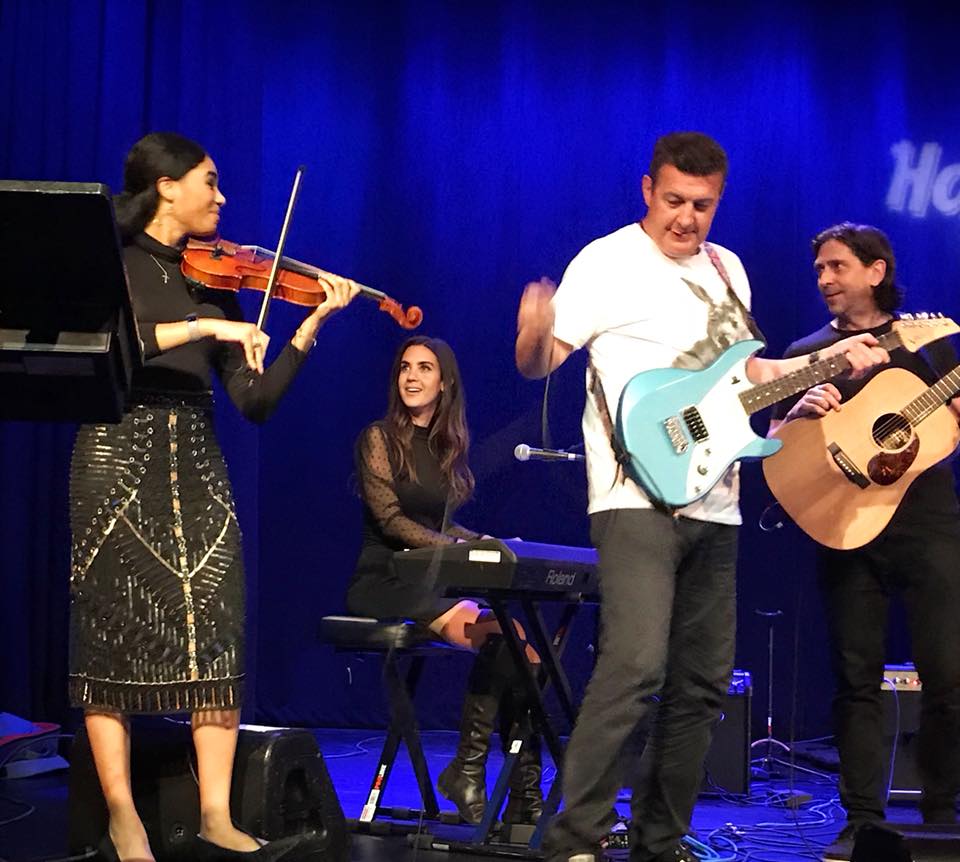 RETAIL CONTINUES TO ROCK
The annual NRF tradition rocked on. RIS' Rock & Roll Retail event celebrated its 9th anniversary with a night of music, friends and networking. This year's event once again took place at the Hard Rock Café in Times Square. Over 250 retailers, solution providers and analysts packed the venue to hear three bands made up of the industry's most musically talented rock the crowd.
Relevant Articles
1.In the News: NRF 2018: Retailers Must Use AI for Intelligent Customer Engagement
2.Theatro CEO Chris Todd to Speak at Future Stores Seattle 2018